The very beginnings: Linguistics in Cologne until 1945
After the university had been re-founded in 1919, linguistics in Cologne was taught at the German Institute ("Deutsches Seminar", the precursor to today's German Language and Literature Department ("Institut für deutsche Sprache und Literatur").
Isidor Scheftelowitz und Carl Karstien are two noteworthy linguistics professors, who both wrote their habilitation theses here.
Each professor is known for his own research field: Scheftelowitz for Indo-European Philology and Karstien for Comparative Linguistics and Colonial Languages. Both subjects were taught at the German Institute on Ubierring 48, remaining part of the German Institute's infrastructure.
Indo-European Philology ("Indo-Germanische Philologie")
Students were first able to study Indo-European Philology at the University of Cologne in 1920. The name of the subject changed several times (1921: Indogermanische Sprachen; 1922: Indogermanistik und Orientalistik; 1924: Orientalische, indische und iranische Philologie). Classes were held on Ubierring 48.
Isidor Scheftelowitz taught these classes as a non-tenured professor. His linguistic approach was influenced by religious and oriental studies, as is evidenced by his edition of the apocryphal hymns of the Rigveda (Apokryphen des Rgveda, 1906) and his book on the dawn of Manicheism ("Die Entstehung der manichäistischen Religion", 1922). He also conducted linguistic research on Indo-European, such as published in an article on the verbal and nominal sk-stems in the Baltic Slavic languages and Albanian ("Die verbalen und nominalen sk-Stämme im Baltisch-Slavischen und Albanischen") (Zeitschrift für Vergleichende Sprachwissenschaft 56, 161-210).
In 1933, Scheftelowitz was forced to resign from his position by the Nazi regime because he was Jewish. Professor Karstien took over for the next two semesters, starting in the winter semester 1933/1934. Until 1945, the subject was only taught on an irregular basis.
Comparative Linguistics ("Vergleichende Sprachwissenschaft")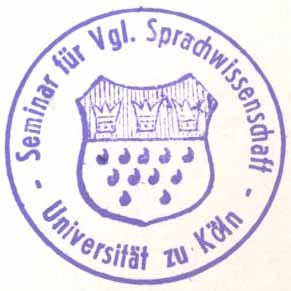 Professor Dr. Carl Karstien taught Comparative Linguistics at the University of Cologne from 1924.
The name of the subject changed several times (1927: Vergleichende (indogermanische) Sprachwissenschaft; 1944: Indogermanische und Allgemeine Sprachwissenschaft).
Colonial Languages ("Kolonialsprachen")
Starting in 1941, students could study Colonial Languages and learn to speak Bantu languages in classes held by Karstien. Colonial Languages was on offer until 1945.
Professor Isidor Scheftelowitz (1875-1934)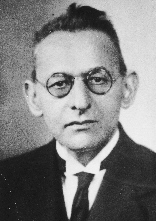 Professor Scheftelowitz worked as a rabbi and a non-tenured professor in Cologne in the 1920s. He taught linguistics from 1920 to 1934.
From his obituary in the newspaper Kölnische Rundschau on 2 May 1950:
Born in Sondersleben, Anhalt, 75 years ago on May 1, Isidor Scheftelowitz studied Oriental languages and the history of religion in Königsberg (Kaliningrad) and Berlin. He sat the rabbi ordination exam and became a research fellow at the Berlin State Library. After research trips to England, he was ordained as the rabbi of the Cologne-Ehrenfeld synagogue in 1909. In 1920, he habilitated in Indian and Iranian Philology in Cologne. He also founded a party of the religious middle ("Religiöse Mittelpartei") for community elections in 1928. Already in 1923, he had received an honorary professorship for Sanskrit and Iranian Philology at the University of Cologne. In 1933, the Nazi regime forbade him to teach. However, Oxford University immediately appointed Scheftelowitz as a professor for Indo-European philology and religious studies, also appointing the well-known philosopher Ernst Cassirer from Hamburg. Scheftelowitz is also the one who re-discovered the old Jewish cemetery in Cologne
In 1933 Scheftelowitz was banned from teaching. He protested in a letter:
Dear Dean,

The board of our university instructed me at the end of April that I should stop teaching for the time being, until the Minister has come to a conclusion in this situation. The list of suspended professors that the Minister published at the beginning of May did not contain my name, so I presume that I may resume teaching next semester. Please find included a document containing my list of lectures for the winter semester.

Yours truly

I. Scheftelowitz
When Scheftelowitz's permission to teach was revoked, he fled to England with his family in 1934. His son Brian Shefton (1919-2012) was an archaeology professor in Newcastle. He remembers what happened in an interview (.wav, approx. 19 minutes). For him, there were also positive sides to having had to flee (.wav, approx. 1 minute).
Professor Carl Karstien (1893-1961)
Professor Karstien taught linguistics in Cologne from 1924 to 1959. He had studied under Hermann Hirt and Otto Behagel and was primarily interested in German linguistics, as can be seen in his publications on the reduplicated perfective form of North and West Germanic languages ("Die reduplizierten Perfekta des Nord- und Westgermanischen", 1921) and a historical German grammar ("Historische deutsche Grammatik", 1939). Karstein's work also included language comparison, as described by Mr. Hempel, Director of the German Institute, in an appraisal on 30 December 1942:
It is obvious that Karstein is not limited to German linguistics. His work is based on a comparative foundation and he has published smaller comparative articles such as one comparing verbs in Italic and Germanic languages ("Italo-Germanisches. I. lat. sedere - got. sitan und verwandtes"), (Zeitschrift für Vergleichende Sprachforschung 65, 145 ff.). I am also aware from conversations that his interests exceed Indo-European and include other language families and more general linguistic questions. At the moment, he is strongly involved with research on the formation of linguistic classes (sex, etc.) and is investigating that in African languages (such as Bantu class prefixes).
Karstien received tenure in 1944. This can also be seen as the founding year of the Department of Linguistics ("Institut für Sprachwissenschaft"), even though it will only be called that later. When Karstien received tenure, he had already been teaching linguistics and researching at the University of Cologne for more than 20 years. A remarkably long wait for tenure. The former Dean wrote a letter about this on 24 March 1943 (addressed to the Reichsminister for Science, Education and Public Schooling):
The reasons Professor Karstien has not previously received tenure are not that he lacks research or teaching skills. Rather, his leadership skills and, in connection with that, his political leanings gave cause for concern.
In 1934, Karstien had openly criticised the Nazi regime, as was witnessed by the political sciences student Joseph Küppers. As a member of the Sturmabteilung and of the Nazi Party, Küppers saw it as his duty and informed the authorities about Karstien on 31 January 1934:
On 30 January of this year, I encountered the very drunk Mr. Assistant Professor Karstien at a local inn. He told me that he refused to use the Nazi salute at the university. He also told me that he objects to the "red flag" there – he was referring to the Nazi flag […]. During Hitler's speech [which was broadcast on the radio], he said it was a pity that he was not in Bonn to protest it.
Karstien had to wait a long time for tenure. When the University of Jena wanted to make him full professor in 1943, he refused, saying that he wanted to remain in Cologne. This spurred the University of Cologne into appointing Karstien as a full professor in 1944. The institute was then named Institute for Comparative Linguistics ("Seminar für Vergleichende Sprachwissenschaft").