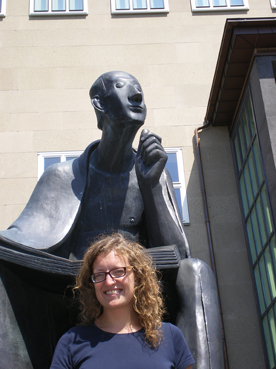 Sonja Gipper is currently teaching in the General Linguistics section. In her research she focuses on Yurakaré, an endangered linguistic isolate spoken in the Andean foothill area of central Bolivia. In collaboration with the Anthropologist Vincent Hirtzel (Laboratoire d'ethnologie et de sociologie comparative, CNRS Nanterre) she is currently investigating the experiences of the Yurakaré during the global Covid-19 pandemic in a pilot project funded by the Global South Studies Center at the University of Cologne.Together with Prof. Eugen Hill and Prof. Martin Becker, she is PI in the project Conversational Priming in Language Change that investigaties the role of repetitional responses in linguistic transmission (funded by the Excellent Research Support Programme of the University of Cologne, format FORUM).
From 2006 to 2011, she worked on a documentation project on Yurakaré as a doctoral student, which was funded by DobeS (Volkswagen Foundation) and located at the MPI for Psycholinguistics in Nijmegen. The documentation is accessible via the DobeS Archive for Threatened Languages. In her dissertation (2011, Radboud University Nijmegen) she examines how the evidence and intersubjectivity markers in Yurakaré are used in conversations.
From 2011 to 2015, Sonja Gipper taught at the Institute of Linguistics at the University of Cologne. Her courses dealt with various linguistic topics, with a focus on general and intercultural pragmatics, language documentation and description, empirical research methods and intercultural communication.
Her main research interests are language use in social interaction, the linguistic expression of social cognition, pragmatics, sociolinguistic variation, language change and linguistic diversity. She has special interest in South American languages.